The Mertin Team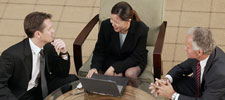 Professional Profiles
Harold A. Mertin B.A., CFP, CIM, CLU,
Harold is the President, CEO and Life Insurance Advisor of Mertin Financial.
Early in his career, Harold had the vision to create a business built around the needs of his clients. He also realized that no one person can be all things to all people; therefore, he built a team of like-minded individuals that are specialists in their own field of expertise.
Harold is a graduate of Wilfrid Laurier University, (Economics), is an Investment Advisor with Manulife Securities Incorporated and has acquired a Certified Investment Manager (CIM) designation.
Harold is a graduate of the Family Enterprise Advisor Program offered through the Sauder School of Business (UBC). This program is designed to equip Advisors in helping business families and their leaders effectively manage the unique challenges that face family businesses during a leadership transition.
W.K. (Jimmy) Jim, B. Admin., CFP (Investment Advisor Assistant with Manulife Securities Incorporated)
Jimmy brings twenty years plus experience in the financial and investment industry. Jimmy was born and raised in Hong Kong and speaks fluent Cantonese. He is a graduate of Lakehead University and acquired his Certified Financial Planner designation in 2002. Jimmy's strong analytical knowledge of the financial markets, coupled with his business background, has allowed Jimmy to provide support to Harold Mertin in meeting client's specific retirement and lifestyle goals.